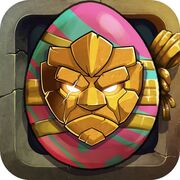 The Easter Event is an event that occurs during easter!  After each battle(Any battle, arena, dungeon, or mission) you have a chance to get a Hidden Egg or a Golden egg. Eggs are also obtainible via the vault. Eggs can be exchanged for prizes! 
Event Droprate:
Droprate in dungeon/campain seems to be arround 1/25.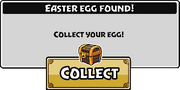 Droprate in arena seems to be arround 1/50. 
Droprate Switched:
The droprates will swap making Arena drop eggs more then 
dungeons. This will happen 3 times during the event, each lasting 8 hours.
April 10 / 3:00 - 1:00 PDT (Over)
April 11 / 9:00 - 5:00 PDT (Over)
April 12 / 0:00 - 8:00 PDT (Over)
April 12 / 8:00 - ?:?? PDT (over) (Server reset extended the switch)

Egg exchange:
3 Hidden Eggs for a normal pack.
3 Golden Eggs for an advanced pack (Advanced pack has a small chance at jester while droprate is switched)
10 Hidden eggs for 1 Golden egg.

Crown exchange:
Vault: 500 crowns for 5 Golden eggs, and 10 Hidden eggs
Roulette: 600 crowns for a random reward, which has a chance at the all new
Jester
.
Community content is available under
CC-BY-SA
unless otherwise noted.